Life comes with its twists and turns, take it head on with a Personal Loan.
Read More
Online Banking
UKRFCU's Online Banking offers you 24/7 access to your account. Whether it's from the comfort of your home or from the road, we offer you the tools to better manage your money, transfer funds, budget your spending, view statements, and much more.
Mobile Banking
Manage your money on the go. With UKRFCU's Mobile Banking App, you can transfer funds, pay bills, and deposit checks all in one place. The power to better manage your money is now at your fingertips.
Mobile Deposit
Our Mobile Deposit makes banking convenient and simple. Just tap open our Mobile Banking app, snap a picture of your check, and deposit your funds straight to your account.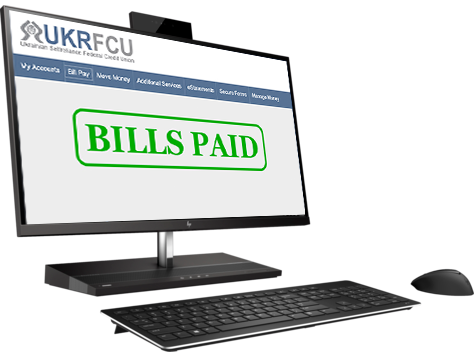 Bill Pay
Set up our online Bill Pay service and stop stressing about paying your bills. Bill Pay lets you set up automatic payments for all your accounts. Quickly track your bills, schedule and cancel payments, and let Bill Pay handle the rest.
UKRFCU VISA CREDIT CARDS
Looking for a credit card that suits you best? UKRFCU's VISA Credit Cards are fit for every lifestyle. Whether you're looking to build credit or get rewarded for making purchases, our VISA Credit Cards offer a range of benefits and rewards. UKRFCU VISA Credit Cards give you the power to save on the go.
ABOUT US
Ukrainian Selfreliance FCU
UKRFCU provides our members with multiple savings and lending options, and financial education, so that they can make informed personal finance decisions. We are deeply committed to our membership and in helping them achieve their financial goals while building lifelong partnerships with us.
NOT A MEMBER?
Joining Ukrainian Selfreliance Federal Credit Union hasn't been easier. To learn more about our field of membership and the advantages of becoming a member, click the button below.